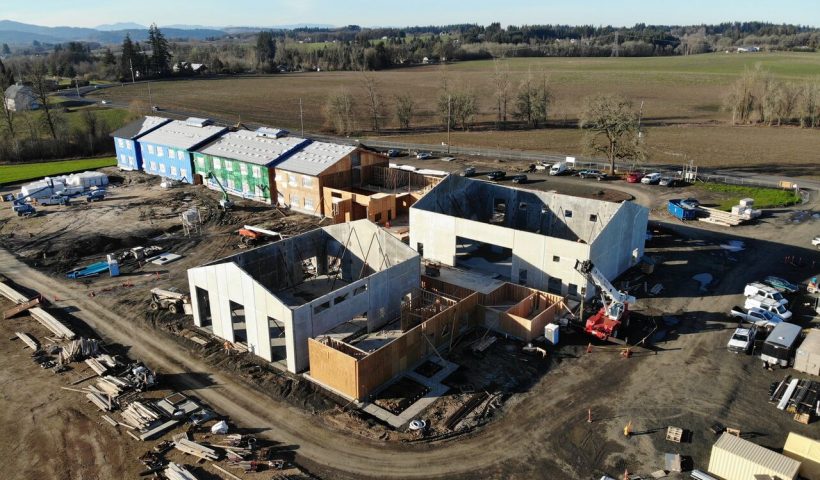 Casa abierta de las escuelas primarias Oak Grove y Meadow Ridge: Haga Clic Aquí Para Español
Community open house times and locations

February 26th: Timber Ridge, 6:30PM to 8:30PM

February 27th: North Albany Middle, 6:30PM to 8:30PM
CONSTRUCTION IS nearing completion on Greater Albany School District's two new facilities at Oak Grove and Meadow Ridge. The district has formed a committee to address the activation of these facilities, composed of parents, teachers, principals, seniors, and other community leaders.
Questions to be addressed by the committee:
How should Oak Grove, North Albany Elementary, and Fir Grove be organized by grade level and general use? How should the school boundaries be organized?
Should Fir Grove remain in use as a neighborhood school?
Should Meadow Ridge open in the middle of the academic year when it's complete, or should the district wait until Fall 2020?
How should the grade levels for Meadow Ridge and Timber Ridge be organized?
Community open house structure and process:
There is no fixed presentation; information will be presented on informational kiosk stations and participants may hear a brief, personalized presentation from a district facilitator and ask questions.
Community members may attend a meeting at any time during the declared two-hour meeting window, and at any location. The content of both meetings at each location is the same.
An information sheet will be distributed identifying the remaining decisions, and a survey will be be made available for reporting to the committee and school board, to inform their final decisions.
Please call the schools with any questions.
---
Spanish Translation

Casa abierta de las escuelas primarias Oak Grove y Meadow Ridge
La construcción está casi llegando a su culminación en las dos nuevas instalaciones del Distrito Escolar de Albany, para Oak Grove y Meadow Ridge. El distrito ha formado un comité para conversar acerca del funcionamiento de estas instalaciones, compuesto por padres, maestros, directores, adultos mayores y otros líderes de la comunidad.
Horarios y lugares de casas abiertas de la comunidad:
26 de febrero: Timber Ridge, de 6:30 PM a 8:30 PM
27 de febrero: Escuela secundaria North Albany Middle School, de 6:30 p.m. a 8:30 p.m.
Preguntas que serán abordadas por el comité:
¿Cómo deberían organizarse las escuelas primarias Oak Grove, North Albany Elementary y Fir Grove por nivel de grado y para el uso general? ¿Cómo deberían organizarse los límites escolares?
¿Debería la escuela Fir Grove permanecer en uso como una escuela de vecindario?
¿Debe la escuela Meadow Ridge abrir a mediados del año académico, cuando se complete o el distrito debe esperar hasta el otoño del 2020?
¿Cómo deberían organizarse los niveles de grado en Meadow Ridge y Timber Ridge?
Proceso y estructura de la casa abierta de la comunidad:
No hay una presentación fija; se presentará información en los quioscos con estaciones informativas y los participantes podrán escuchar una presentación breve y personalizada de un facilitador del distrito y hacer preguntas.
Los miembros de la comunidad pueden asistir a una junta en cualquier momento durante el periodo establecido para las juntas de dos horas y en cualquier lugar. En cada lugar, el contenido de ambas juntas es el mismo.
Se distribuirá una hoja informativa que identificará las decisiones restantes, y una encuesta estará disponible para presentarlo al comité y a la Mesa Directiva, para informar acerca de sus decisiones finales.
¿Tiene Preguntas? Por favor llame a su escuela o al centro de bienvenida.